We played the Jones Masterpiece golf course at Treetops in July of 2008. The weather was as good as it gets; not cold at all, and not too hot to cause any sweat, but plenty of sunshine. It was the perfect day for golf!
I played the Blues, which measured 6,377. The Blacks are just over 7,000, and even though I would've been OK with that, it did push three of the par 3's to < 180 yards, and at this point in my life, that equates to a lot of strokes, so Blues it is!
The opening hole is a par 5, but only plays to 465 yards from the Blues, so it's definitely reachable. Play your tee shot further left than you think; it opens up if you get some distance. Your approach is going to be fully downhill. There's water on the right, but the left of the green slopes down, so you may be able to go for it. (Plus, you have lots of holes to make it up, right?) Here's a shot from the fairway before it starts to drop; note the green in the distance.
The third hole seems simple enough. The scorecard makes note of a ravine about 225 yards from the Blue tee, but you won't be able to see it. Warning! It's significant, and you are well advised to play to the right, and play safe. This ravine is a doozie, with a severe incline and the tall, thatchy grass that nobody likes.
Behind the green we did see a gaggle/flock of turkeys. As I've mentioned before, love Michigan golf. The round where you don't see wildlife is rare in Michigan.
The fourth hole is just a beautiful par 3. The signature par 3 is coming, but this one is such a looker, I had to post a picture. Well that, and I parred it!
The fifth is a par 5 that plays to 510 from the Blues. I'd suggest making it a three-shotter, mainly because of the green being much higher than the rest of the hole. It's kind of hard to see with a picture, but I do know that I'd much rather be hitting a wedge into this green than a wood or long iron.
The sixth is easily the most popular hole on the course. We were there in summer, but I'd bet in the fall this is really a sight. I felt like I could see for miles. When Jones first visited the location for this hole, he commented on the Treetops, and instantly named the resort.
Here's a quick video showing hole. Sorry it's so shaky; I'm still learning.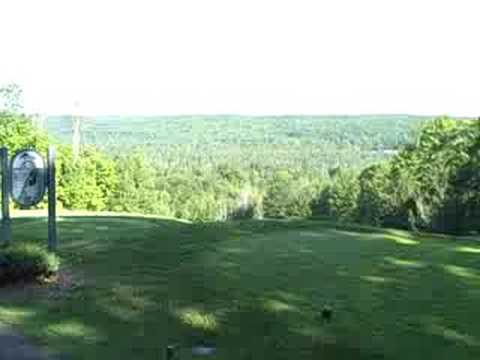 The eighth is a sharp dogleg right, and I mean sharp. Longer players can probably hit over the trees, and there is room to land, but the safe shot is to hit a fade just past the corner. Your approach shouldn't be too long, and the green is surrounded by water, so a good approach is essential.
The ninth is a fairly straight-forward par 4, but the tee boxes are a highlight. They are built into the swamp, and make for an interesting design choice.
The tenth (and eleventh) are two of the most interesting holes on the course. Ten is a 589 yard par 5 (from the Blues), with a downhill tee shot, and a couple of uphill approaches. Easily a three-shotter, with your approach to the green being blind.
Eleven is just as interesting, although a par four rather than a par 5. Downhill tee shot and uphill approach that is basically blind.
Luckily, the halfway house 9actually, the 11/18 house) is adjacent to the 11th green. You can place your order from the 11th tee but oddly, there is no two way communication; you just yell into a speaker and hope someone is listening. Luckily, they were, and our sandwiches were very good.
The thirteenth has all the makings of a great par 3; water, which forces you to make sure you're not short, a thin, long, multi-tiered green, making placement key, and two really well-placed bunkers. This type of hole makes me appreciate good golf course design.
The fairway on the fourteenth hole ends! Do not be long here, or it's all over for you on this hole. Learn from my mistake. The tee sign says the fairway "drops off" at about 240, but it basically ends. Even if you g through it, your approach is from a severe downhill lie. If you have the time and opportunity, drive your cart up and take a look prior to teeing off; you'll thank me later.
The fifteenth is an almost reachable par 4. It takes the perfect shot, and I mean perfect. If you have the time, and it won't hinder the group behind you, I say go for it. In the following picture, the green is just beneath the bunkers on the far left.
If you decide to play it safe and hit it straight, your approach will be short (100 yards or less probably) to an uphill green. Here's a peek:
Sixteen is a pretty straight-forward par three, but it provided a great story for my wife and I for years to come. Earlier in the round, we were waiting on the third tee when the group behind us drove their carts right up to ours, proving what a hurry they were in. By the fourth tee, a ranger came out and told us we needed to keep up. Bear in mind that we are a twosome, sandwiched between two foursomes. The ranger understood, but said these guys were really impatient, blah blah blah. By the 5th tee, we just waited and asked if they wanted to play through. They said yes, they had a plane to catch, yadda yadda who cares? So, we let them play through. For the rest of the round, they were the group in front of us. They never played fast enough for anyone else to let them through. Anyway, on the sixteenth green, with all four of them lining up their putts, the sprinklers unexpectedly turned on, soaking the group. Is that karma or what?
Moral of the story: Relax. If you have to hurry, you're playing the wrong game.
The Jones Masterpiece finishes with a 516 yard par 5 (Blues). The tee shot needs to be long and deep. There really isn't a comfortable place to lay-up for this par 5, with the 100 yard marker being severely beneath the green. Even laying up to 130-140 will leave you with a downhill lie. It is another interesting design choice, to say the least.
We finished, and went into the clubhouse to look over shirts and other logo items. After all, we were on vacation!
Of the four 18-hole courses at Treetops, the Jones Masterpiece is probably tied for first, or my second favorite (after the Fazio course). I'm sure people smarter than me will disagree, but the Jones Masterpiece shouldn't take it as a negative. It is a strong course, and if you only have the opportunity to play one or two at Treetops, this should be on your list.
If you like this post you might enjoy following me on Twitter: twitter.com/danperry